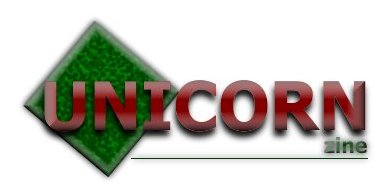 World Of Music the uninews magazine
Eiffel 65 Spin 'Blue' Into Gold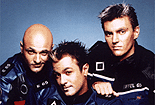 Italian dance-pop trio formed to create one song and now have international hit. Contributing Editor Gianni Sibilla reports: TURIN, Italy — There are one-hit wonders, and then there are one-song wonders. Eiffel 65, the Italian trio whose dance-pop novelty "Blue (Da Ba Dee)" is racing up the charts throughout Europe and the U.S., formed to do nothing more than create that one song. " 'Blue' was born almost like a game," singer/producer Jeffrey Jey said on Wednesday of the tune, in which he sings about "a little guy that lives in a blue world." But the experiment between the three men, who are members of the Italian dance-hit factory Bliss Corporation, "worked, and so we continued working on other tunes and completed the rest of the album," Jey said. "We show ourselves in our videos, something that many other dance acts, like Daft Punk or Chemical Brothers, don't do." — Jeffrey Jey, Eiffel 65 singer Even their name has a haphazard, patched-together quality. A computer chose Eiffel randomly from a group of words the men liked. The number 65 was added mistakenly to an early pressing of the single; the group liked the combination and stuck with it, Jey said. 'Blue' Gone Gold "Blue (Da Ba Dee)" (RealAudio excerpt) climbed from #9 to #6 this week on the Billboard Hot 100 singles chart, continuing a rapid two-month rise, while Eiffel 65's album, Europop, moved up to #8 on the Billboard 200 albums chart. The LP has sold more than 600,000 copies in the United States, according to sales tracking company SoundScan, and was certified gold. The song is "a bit cheesy, but there's nothing wrong with that," said Billy Vidal, a vice president of the Mirror Corp., which owns four San Francisco nightclubs including Club X and the Sound Factory. "It doesn't have any serious message or anything, but it's a good, fun song. "The first time I played it, it didn't get a great reception," Vidal said. "But then a little while later, about three weeks later, people recognized it, and it got a much better response, because it's been on the radio so much." "The success of this song lies in many factors," the 30-year-old Jey said, speaking in Italian. "From the name of the band to the name of the song itself to the lyric. Unlike many other dance tunes, our songs have a traditional structure, with verses, choruses and bridges. This was important because it made 'Blue' a song in every sense. Probably that's the reason many people perceived 'Blue' as a song, not a dance track." As the song has blossomed into an international hit, Jey, producer/composer Maurizio Lobina, 26, and DJ/composer Gabry Ponte, also 26, have been steadily on the run. Wednesday, they had just returned to Turin, their hometown, from Mexico. They were then headed to France and Russia to promote their next single, "Move Your Body." Eiffel's Blissful Meeting The trio met in Bliss Corporation, founded in 1992 by Italian producer Massimo Gabutti. The collective has produced several Italian and European dance hits, including a 1993 cover of punk poet Patti Smith's "People Have the Power," credited to Bliss Team. Bliss Corporation has 22 members and six recording studios and runs six dance labels. "Here at Bliss Corporation we're all producers, everyone with his studio," said Jey, who was born Gianfranco Randone in Sicily. He moved to Brooklyn, N.Y., with his family, when he was a year old and returned to Italy 13 years later. At 23, he moved to Turin and began working in the local dance scene. "We constantly work with each other on different projects," he said of Bliss. "Me, Gabry and Maurizio worked on this song ['Blue']. The melody was composed by Maurizio, and I wrote the lyrics. Then we reworked it all together. So the song 'Blue' was born." A 'Blue' World The idea behind the song, Jey said, was to use the color as a metaphor for life. "Yo listen up, here's a story/ About a little guy that lives in a blue world," he sings. "And all day and all night and everything he sees/ Is just blue like him." "Blue does not mean sadness, as they often ask me in English-speaking countries," Jey said. "It is intended to describe a style of life. Every one of us at a certain point in life has a style of life through which everything is seen. And this style can be described as a color. For example, everything a person likes can be seen as blue." Even if the project was born out of a single song, the trio now feel like a real band, the singer said. "That's why we show ourselves in our videos, something that many other dance acts, like Daft Punk or Chemical Brothers, don't do," he said. "We like to have a real contact with the people who listen to and dance to our songs." Nonetheless, nightclub promoter Vidal said, "It's tough to follow these records up. I'd like to see a record company put the time in and [develop] some of these guys. That's the thing with most dance acts — they mostly end up with one big hit, because the record companies don't really try to develop them. It's just luck."
---
Air, Beck, Sonic Youth Get Into The Groovebox Experimental album pairs big names with little sequencer.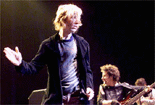 It's a conceptual music project that would've made late pop-art icon Andy Warhol proud: Send a weird-looking sequencer to Beck, Cibo Matto and other musicians, ask them to write a song using it and little else, and collect the results on an album. At Home With the Groovebox, due April 4, features an all-star cast of musicians creating new songs on the compact, programmable Roland Groovebox, which can reproduce sounds from such classic Roland instruments as the 808 drum machine and the 303 bass machine. The experiment yielded 14 strange and unexpected tunes from such musicians as rockers Sonic Youth and Sean Lennon and electronic-music pioneers Dick Hyman and Gershon Kingsley. "We like to have fun with instruments." — Nicolas Godin, Air multi-instrumentalist "The Groovebox is a little toy, so we wanted to do something not serious with it," Nicolas Godin, half of the multi-instrumental French duo Air, said of "Planet Vega," the track he and partner Jean Benoit Dunckel created with the device. "But I think the song is quite good. It was not a problem for us; we knew that we [could] make that [kind of a] toy song. We like to have fun with instruments" (RealAudio excerpt of interview). The artists were allowed to add vocals to the eight-track mix that the Groovebox allows, although most went the instrumental route. Among those adding vocals were Beck, on his electro-funk tune "Boyz"; Japanese duo Cibo Matto, on the bouncy pop number "We Love Our Lawyers"; Pavement leader Stephen Malkmus, who busted an unlikely rap on "Robyn Turns 26"; and Palace leader Bonnie "Prince" Billy, on the downbeat ballad "Today I Started Celebrating Again." How The Project Began The project's originator, Bill Mooney, said he first learned about the Roland MC-505 three years ago in a British DJ magazine. Mooney, 32, owns the Raleigh, N.C., rock merchandising company Tannis Root, whose clients include Beck, Sonic Youth and Pavement. "It interested me because it had a lot of collectible equipment on it," he said, "like the 303 bass machine and the 808 and 909 drum machines that are early hip-hop staples, [and] that sold for a lot more separately." Air's Godin, 30, said "Planet Vega" is a parody of the music of French composer Francis Lai ("Love Story"). Since all the participants were allowed to keep their $800 Grooveboxes, the acclaimed duo — who recently recorded the score to Sofia Coppola's film "The Virgin Suicides" — have made good use of the synthesizer in their live show and on their upcoming album, Godin said. Mooney said he originally planned to send the machines out on the road with artists one at a time, collecting their songs after the tour was over. He changed his approach, though, when funk-obsessed folkie Beck held on to the Groovebox for six months. Fearing the workload of getting clearances from all the artists, as well as the cost of buying a dozen Grooveboxes, Tannis Root hooked up with the Beastie Boys' Grand Royal label to compile a list of artists for the project, Mooney said. An Open Approach "We had a letter which explained that we wanted the artists to approach the Groovebox with an experimental mindset," Mooney said. "We told them they could use samplers, external effects and vocals, but that they should try to avoid the use of outside instruments." Mooney said he wanted the project not only to produce interesting music, but also to explore the dynamics of a band crowding around a small box with a single, small LED readout window and fashioning a song. In Pavement's case, it didn't happen; bandleader Malkmus did the track on his own. Sonic Youth, however, managed to collaborate around the briefcase-sized device to produce an abstract, ambient piece with crackling sounds befitting its title, "Campfire." Moog Pioneers The album features songs from three pioneers of the Moog synthesizer — Dick Hyman, Gershon Kingsley (who did a new version of his composition "Popcorn," the 1972 synth-pop hit); and Kingsley's collaborator on the landmark 1966 electronic-pop album The In Sound From Way Out!, Jean Jacques Perrey. Mooney said a streaming RealAudio track from the album will be posted on the Grand Royal Web site (www.grandroyal.com) every week until its release, although no start date for the posts has been announced. At least one of the album's tracks will be offered as an MP3 file, Mooney said. The full track listing for At Home With the Groovebox: Jean Jacques Perrey, "The Groovy Leprechauns"; Buffalo Daughter, "303 606 = ACID"; John McEntire, "J.I.H.A.D."; Air, "Planet Vega"; Pavement, "Robyn Turns 26"; Money Mark, "Insects Are All Around Us"; Beck, "Boyz"; Sean Lennon, "Winged Elephants"; Gershon Kingsley, "Popcorn"; Sonic Youth, "Campfire"; Bis, "Oh My"; Cibo Matto, "We Love Our Lawyers"; Bonnie "Prince" Billy, "Today I Started Celebrating Again" and Dick Hyman, "Glass Slipper."
---